Free Shuttle Bus to
Hammerweg

in

Traun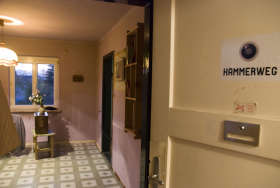 Copyright: Claudia Beer
19.02.2009


In Hammerweg in Traun, a working-class housing complex is being temporarily converted into an art museum, rooms in which people used to dwell turned into exhibition spaces, and their inhabitants made over into actors. Linz09 is supporting the project with free round-trip shuttle bus service from the Capital of Culture.
Most of the apartments in
Traun's Hammerweg
are already vacant. As soon as the last resident dies, this housing complex will be torn down. The emptiness is a stark contrast to the lively goings-on there just after this working-class housing development was built in the 1950s. Back then, the prevailing circumstance was life lived at extremely close quarters. A family of five living together within the confines of 30 square meters was not uncommon.
The
Hammerweg
project being produced by
Alenka Maly, Eugenie Kain
and
Bibi Weber
is briefly reviving a proletarian microcosm and the culture of everyday life that was an inherent part of it. Artists who grew up in these projects or whose lives centered on them for extended periods of time have turned the empty flats into a temporary museum as a requiem for a once-vibrant setting for human coexistence. The result is a complex, multifaceted project with many highly personal aspects.
This exhibition's first run in the fall of 2008 was extremely well received; now it's being reprised for the European Capital of Culture year. Linz 2009 is providing shuttle bus service that will run every Friday, Saturday and Sunday from February 20, 2009 through March 15, 2009. The bus has room for 7 passengers. The round-trip shuttle service between Linz and
Traun
is free of charge.
Linz-Traun:
1st Run:
11:30 AM,
2nd Run:
1 PM,
3rd Run:
2:30 PM
Traun-Linz:
1st Run:
1:30 PM,
2nd Run:
3 PM,
3rd Run:
5 PM
The bus runs between
Unteren Donaulände

26
(bus stop across from the Lentos) and
Hammerweg
70A in
Traun
(a distance of approximately 12 kilometers).
www.hammerweg.at