Between the
Autobahn

and the Landscape Park –

Bellevue

: The Yellow House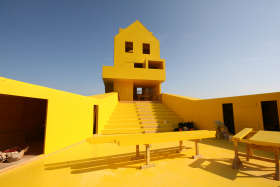 Copyright: fattinger, orso, rieper
18.06.2009


The next time you spot a bright yellow building while whizzing through Linz on the expressway, you'll know where it's at. That's Bellevue, a cultural venue that will be open until fall to host a wide array of activities including film screenings, dance, cooking and musical events, talk shows, children's programmes and a weekly Sunday brunch.
Beginning June 25, cultural life in Linz's Bindermichl and Spallerhof neighbourhoods will revolve around a brand new hub.
Bellevue
is the name of this temporary architectural landmark, a wooden structure that's gone up over the last few weeks above the portal of the Bindermichl expressway tunnel. The Yellow House's target audience includes local residents, passers-by and … well … anyone at all, really!
In addition to a stage and an info kiosk, the facility houses a canteen with a guest garden, bicycle rental infrastructure, a workshop, an exhibition area, a media space and a library. In other words: it's a real cultural center. Each day of the week, there'll be a different featured programme theme: Monday:
Bellevue
Goes to the Movies; Tuesday:
Bellevue
Tells Stories; Wednesday:
Bellevue
Plays DJ; Thursday:
Bellevue
Cooks; Friday:
Bellevue
Dances; Saturday:
Bellevue
Resounds. The Sunday brunch series entitled
Bellevue
Hosts will spotlight Capital of Culture Neighbourhood of the Month projects.
Bellevue

– The Yellow House
June 25-September 13, 2009
Daily from 11 AM to 12 Midnight
Bindermichl-Spallerhof, Höhe Hausleitnerweg, in the landscaped park at south portal of the slab-structure bridging the A7 expressway, 4020 Linz
All events are free of charge!
Details at
www.bellevue-linz.at