For example: India at "Theatre Mania2: Sunburn"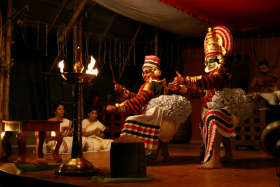 Copyright: Jayan Natanakairali Archieves
30.07.2009


The second great theatre festival of Linz09 is off to a flying start. "Theatre Mania2: Sunburn" lures audiences to open-air performances and presents productions culled from all over the world. For example, from India.
With an unbroken tradition that has gone on for more than a thousand years, kutiyattam is the world's oldest surviving form of theatre. In India, performances take place in a kuthambalam, a many-pillared structure within a temple; even though an audience is present, the performances are in fact staged for the Gods. The repertoire of precisely defined and encoded gestures and movements runs to around 2,000 items and forms the basis also for less ancient Indian theatrical styles such as kathakali.
The performances in Linz will be directed by today's greatest living exponent of kutiyattam, Gopal Venu. One of the plays is "Sakuntala", a classic of Sanskrit literature dating from the fourth century, which is performed in three parts on as many nights. The other is "Narasimhavataram", a solo performance by an actress/dancer, in the course of which Vishnu, one of the primary forms of God in Hinduism, assumes a shape half man, half lion.
Sakuntala
5, 6 and 7 August 2009, 9 PM
The performance on 6 August 2009 will be followed by a Q&A session with the director
Voest-Brücke Urfahr / Asphalt-Stockplatz
Reduced admission (€ 9) for holders of Linz09 Insider passes and Linz09 Cards
Narasimhavataram
8 and 9 August 2009, 9 PM
The performance on 8 August 2009 will be followed by a Q&A session with the director
Voest-Brücke Urfahr / Asphalt-Stockplatz
Reduced admission (€ 9) for holders of Linz09 Insider passes and Linz09 Cards
More information / tickets:
www.linz09.at/theaterlust2