Dornach's

Neighbors Give You the Shirt Off Their Back!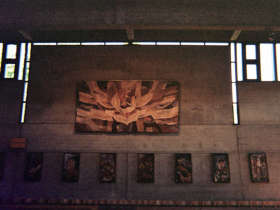 Copyright: Projektteam
01.04.2009


In April's Capital of Culture Neighborhood of the Month, parishes of different confessions are opening their religious sanctuaries to the general public. The residents of Dornach are called upon to contribute their own personal items of clothing, which will be showcased together with works by international artists.
Dornach
residents' favorite articles of clothing will be presented in the context of everyday life as a way of bringing out their personal significance and their relationship to the particular wearer's own biography. The exhibition venues will be three ecclesiastical spaces: the Roman Catholic Parish of the Holy Ghost, the Protestant Congregation of
Linz-Dornach's
Church of the Reconciliation and the premises of the Community of Catholic University Students. The aim is to promote interfaith understanding and to bring out the religions' similarities and differences.
The exhibitions constitute a link to the Linz Art University's Textile Art & Design program and to three generations of teachers and students,
Marga Persson, Fritz Riedl
, Lee Chen-Hao and Chang Ming-Chi, who will contribute their wit and inventiveness to the process of staging this project and presenting it publicly with a concept specially tailored to young people.
INTERDENOMINATIONAL AND INTERNATIONAL ENCOUNTERS WITH ART.DORNACH GIVES THE SHIRT OFF ITS BACK
WHAT // Opening
WHEN // Wednesday 1 April 2009, 07.00 PM
WHERE // Roman Catholic Parish Church of the Holy Ghost, Schumpeterstraße 3, 4040 Linz and Community of Catholic University Students, Galerie, Mengerstraße 23, 4040 Linz
more...