HHouse of Stories: What's New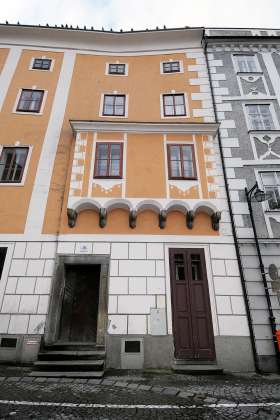 Copyright: Linz09
Download Press Photos
Press Release
Monday 6 April 2009
The House of Stories is in constant flux. So we cordially invite you to revisit us at Pfarrplatz 18—and to give some much-deserved coverage to the great things going on here!
The
sCHICk Travel Agency
by Madame Bricolage (Claudia Czimek) has been growing by leaps and bounds. And the various and sundry souvenirs of the artist's travels have also been accumulating and becoming part of this magnificent microcosm.
And of course the
Wooly Walls
of the freundinnen der kunst (Girlfriends of Art) grow fluffier and more colorful by the week. The wall treatments produced at their Friday afternoon knit-ins have begun to proliferate over the space's windows! All knitters are welcome—from seasoned pros to curious novices.
Among the new features at the House of Stories are the
Rabbit Heads
created by artists Cornelia Kraske and Elisabeth Windner. For a €20 deposit, you can take one out for a test run and experience Linz through the eyes of an Ill Rabbit.
Another new installation is the
Photo Album Swap Meet
. On hand are photo albums of all colors, shapes and decades. Whoever brings one in can takes a different one home!
Beginning in mid-April, the Theater des Kindes will be using these premises to develop a production for the Schäxpir Theater Festival for Young People. In the world premiere of
Franziska Jägerstätter Tells All
, the protagonist sits in her apartment and relates incidents from her long life (theater monolog, age 9 and up, 45 minutes).
The Linz Art University's sculpture class will be moving in at the end of April (tentatively). They'll be making the strange and spooky visible for all to see in the House of Stories' inner courtyard and cellar.
Overview: Currently at the HOUSE OF STORIES
• Claudia Czimek: sCHICk Travel Agency (Ground Floor)
• Photo Album Swap Meet (Ground Floor)
• Rabbit Heads – The Ill Rabbit, Kunstraum Goethestraße xtd (Ground Floor)
• Paul Kranzler: Family Album (1st Upper Level)
• Alex Stelzer: "The House" in the Reading Room (1st Upper Level)
• "Of My Life" A Collection (1st Upper Level)
• Maggie Cardelús: Zoo, Age 10. Looking for time. (2nd Upper Level)
• Peter Arlt: My Private Universe. On What Has Been Collected, 1986-2008 (2nd Upper Level)
Every Monday: Chat with Peter Arlt.
• freundinnen der kunst: Wooly Walls. Friday Afternoon Knitting. (2nd Upper Level)
Every Friday: Knitting Circle with the freundinnen der kunst.