The Ill Rabbit: "A Melancholy Declaration of Love for Disappearing Nature"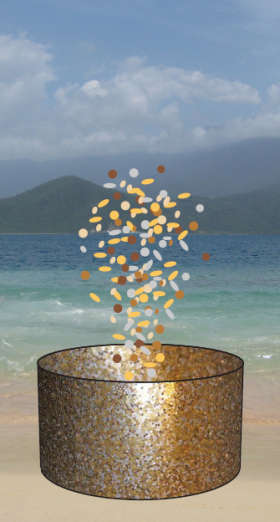 Money Fountain
Copyright: Tea Mäkipää
Download Press Photos
Press Information
Donnerstag 9 April 2009
"The Money Fountain" by Tea Mäkipää will debut on Friday, April 17 at 2 PM on the 1st Upper Level of the Passage City Center mall in downtown Linz. The Finnish artist's installation spews forth thousands of coins and simultaneously raises the ironic ques-tion of whether money is a substitute for clean air and fresh water. The Money Foun-tain is being presented in conjunction with "The Ill Rabbit // Crazy About Linz."
The Money Fountain shoots up an endless stream of coins from all over the world, which then shower back down into the sparkling basin with an alluring jingle-jangle. The Money Fountain is thus an inverted version of a wishing well that promises to make ones fondest desires—that can be purchased with hard cash—come true. Finnish artist Tea Mäkipää thereby poses the question of whether money is equivalent to clean air and fresh water.
That might sound abstruse, "but when Drinking Water© is available strictly in labeled bottles and the only Clean Air™ comes from an air conditioning system, whereas all that's expe-riencing healthy growth are the giants of the financial sector, then the 'Money Fountain' will be a very fitting little monument to this development, an ironic but above all melancholy declara-tion of love for disappearing, irreplaceable nature," explained Mäkipää, an artist known for works that deal with humankind's inability to develop an environmentally sustainable lifestyle. She's exhibited in Helsinki, New York, Berlin, Vienna and Miami. The Money Fountain will be shown in Linz until May 9, 2009.
Money Fountain is a part of "The Ill Rabbit // Crazy About Linz" project produced by Kun-stRaum Goethestrasse xtd and pro mente Upper Austria in cooperation with Linz09. At the focal point of this 13-part series is an artistic encounter with the question: "How much crazi-ness can one province take?" Artists from Finland, Estonia, Switzerland, Germany and Aus-tria will be responding in the form of installations and interventions in public spaces that will be running until October 2009.
For details:
www.kunstraum.at
,
www.linz09.at/der-kranke-hase
and
www.tea-makipaa.eu
Susanne Blaimschein, KunstRaum Goethestrasse xtd and pro mente OÖ: 0664 544 51 44