The 52 WAYS TO SAVE THE WORLD Project is Underway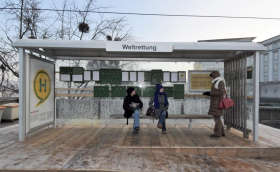 Copyright: Linz09
Download Press Photos
Press Release
9 January 2009
Is there still time to rescue the world? Does a smile suffice? Can a catchy tune save the day? Is the Mind-o-Matic brainwashing machine just the thing we need to get our heads screwed on straight? Can "Superhero" prevent the world's demise?
Linz09's 52 WAYS TO SAVE THE WORLD project will be running throughout the Capital of Culture year. Each week, it will feature a new way to save the world—spotlighting ideas, illustrating them or putting them into practice. Associations and individuals, college students, little kids and retirees have developed these 52 proposals as part of an international submission drive. By the end of the Capital of Culture year, we'll have presented 52 completely different ways to save the world.
This rescue mission's point of departure, core element and collection point is a bus stop set up especially for this purpose by Folke Koebberling and
Martin Kaltwasser
. It's located right at the beginning of the
Nibelungen
Bridge adjacent to the Lentos Museum of Modern Art.
For 52 WAYS TO SAVE THE WORLD, a decommissioned Linz bus stop has been refashioned in the style of an Eastern European bus stop. The underlying concept: the bus stop previously served as a sort of informal information exchange. Here you could find apartments for rent or furniture for sale; news items and even love notes were posted there.
The Linz09 Station offers walls, benches and a roof for informal interaction and exchange, for freedom of information, for the supply and demand of everyday items, for streetart and tags. Plus, the station provides a framework for the other 51 ideas to save the world. A new billboard will go on display every Monday (design:
Buchegger, Denoth, Feichtner
advertising agency) to informs passersby about the latest rescue effort. This will assume diverse forms: earnest attempts to instruct and inform, irony, actionism—anything's conceivable. A bulletin board is provided as a cordial invitation for locals and tourists alike to respond as they see fit.
Join in! Get involved! Be pleasantly surprised! And help us save the world!
52 WAYS TO SAVE THE WORLD
A project for Linz 2009 European Capital of Culture
Concept // Linz09/
Christine Weisser
; based on an idea by
Karl Stocker, Alexander Kada, Josef (Seppo) Gründler, Anke Strittmatter
and
Gerhard E. Kuebel