See this Sound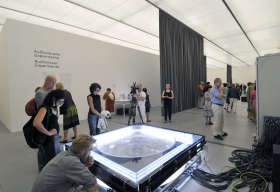 Copyright: Linz09/Kurt Groh
Download Press Photos
Press Conference
27. August 2009
The comprehensive project See This Sound. Exhibition | Web Archive | Symposium is realized in close collaboration between Lentos Art Museum Linz, Linz 09 and the Ludwig Boltzmann Institute Media.Art.Research as an exhibition, research, and multimedia project.
Our perceptions today are dominated by the omnipresence of audiovisual products and structures in which the culture of image and sound production are closely linked in terms of media technology, art and market strategy. See This Sound addresses this situation by presenting and discussing various positions, approaches and methods of implementation. The references range from pop culture to perception theory and media technology. Collaboration with the Ludwig Boltzmann Institute Media.Art.Research. has also enabled the scholarly treatment of specific media history issues presented within the framework of a web archive in the exhibition.
Exhibition
Artistic engagement with image and sound and audiovisual media is closely linked with a discussion about media art and visual art. Looking beyond the immediate province of "media art" is especially interesting in a place like Linz, where this almost seems like a "trademark" positioned apart from everything else happening in art. For this reason, points of reference rom these sometimes very different approaches are to be made visible and audible in the exhibition See This Sound.
Web Archive
The scholarly interdisciplinary and artistic genre-crossing character of the project See This Sound is expressed particularly in the framework of an online platform (www.see-this-sound.at) on the subject of sound-image relations. The entire spectrum of audiovisual arts and phenomena will be represented in a lexicon-type form through a total of 35 historical longitudinal sections and systematic cross-sections.
Symposium
An interdisciplinary exchange among the theoretical and aesthetic thematic fields of the project is the goal of an international conference of the institute. The conference touches on the points of contact among various academic disciplines, including art and music studies, media and art theory, media archeology and the history of technology. Artistic presentations will also be integrated in the course of the conference to stimulate a dialogue between art and science.
Download:
Press Kit See this Sound (PDF)