Politik liebt Kunst / Politics love arts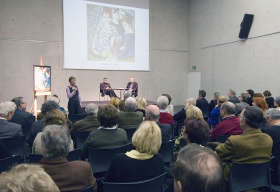 Public officials in charge of cultural policies normally talk about concepts, subsidies, budgets, quotas, venues and buildings—but never about art itself.
Policymakers never have anything to say about what it's really all about here: art and culture in the form of real works and artifacts in which artistic passion materializes. This was one of the themes that Martin Heller and Stella Rollig addressed during the run-up to the Capital of Culture year and, in this spirit, invited prominent local and regional political leaders to share their views about art and culture—to explain what artworks mean to them and to present their favorite works from the Lentos' collection.
• Mayor Franz Dobusch on Anselm Glück: Schade um den Körper II
• Province Minister Rudolf Anschober on Chuck Close: Emily/Fingerprint and Shirin Neshat: Speechless
• Deputy Mayor Erich Watzl on Helene Funke: In der Loge
• Deputy Mayor Christiana Dolezal on Hans Staudacher: Spuren
• Deputy Governor Erich Haider on Gunter Damisch: Felddunkelquerwegaufhellung
• City Councilwoman Ute Klitsch on Fritz Aigner: Der Tod des Ikarus
• Governor Josef Pühringer on Herbert Bayer: Polychrome warm and cool
All events were very well attended and widely reported in the media.
WHAT // Series of chats
WHEN // January - April 2008
WHERE // Lentos Art Museum Linz
back