Tiefenrausch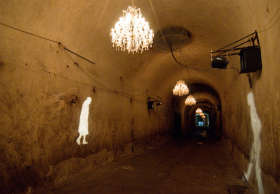 Copyright: Otto Saxinger
Trailblazing in public spaces below ground: The Rapture of the Deep
Following the very positive reception accorded to SCHAURAUSCH (Viewing Spree), TIEFENRAUSCH (Rapture of the Deep) in 2008 was the next logical step on Linz's way to assuming the mantle of Capital of Culture.
This was a tripartite undertaking. The Aktienkeller system of underground tunnels was opened up to the public, which enabled many Linzers to discover a part of their city's historic subterranean realm. Columns on Landstraße designed by Linz Art University students attracted attention and aroused comment—thus, an unmistakable artistic sign along Linz's downtown shopping boulevard. The exhibition in the OK Center for Contemporary Art hosted a very creative and wide-ranging encounter with the subject of the underworld in its many manifestations throughout art history.
The interplay of these three elements was complemented by a diversified program of public events and tours staged at a wide array of underground locations such as Linz's crypts and the Donautyker tunnel beneath the river. External affiliates in Gmunden and the Dachstein Caverns got the project linked up to the surrounding region.
Bottom line: a spectacular art parcours that 19,000+ visitors pursued through kilometers of subterranean passageways.
•
OK | MUSEUM OF THE UNDERWORLDS
•
Aktienkeller | STREAM OF FORGETTING
•
Landstraße | MANHOLE COVERS
•
Linz Underground | CRYPTS, TUNNELS, RESERVOIRS
•
OK Square | 40;000 Liters of Attersee Lake Water
WHAT // Art and guided tours in the netherworlds of Linz
WHEN // May 30-July 31, 2008
WHERE // OK Offenes Kulturhaus Oberösterreich, Aktienkeller
www.ok-centrum.at/tiefenrausch

IDEA / CONCEPT // Rainer Zendron, Martin Sturm, Genoveva Rückert in collaboration with Brigitte Felderer, alien productions, Christoph Dreager/Heidrun Holzfeind, Renate Herter, Pepi Maier
PROJECT STAFF // Norbert Schweizer (director), Martina Rauschmayer, Aron Rynda, Michael Weingärtner (producers)
back