Linz Status Quo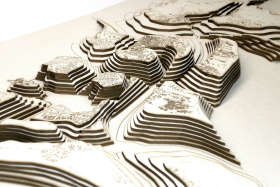 Copyright: Weber Nagl
Three international architectural critics scrutinized Linz. The result was a frank evaluation of present and future urban planning options.
An absolutely essential precondition for a recipient of Capital of Culture honors is an intensive encounter with the city's urban development and architectural heritage. To assess the current situation in this metropolitan area, Linz09 invited three internationally renowned architectural critics, Shumon Basar (London), Angelika Schnell (Innsbruck & Berlin) and Roemer van Toorn (Amsterdam), to perform an objective evaluation. They were called upon to deliver both criticism and praise, to peer into the future, and to bring out the key consideration that will impact the decisions Linz will have to make: Where and how is there room for improvement here? Where is the city's greatest potential in the coming decades?
This process was accompanied by two public symposia held at AFO–Architecture Forum Upper Austria. The critics' essays were published in the "Linz Texas" exhibition catalog as well as in local, national and international architectural journals.
The LINZ STATUS QUO initiative was the first of its kind in Austria. This method of discussing a city and formulating urban development scenarios for it has been successfully practiced in the Netherlands since the 1980s (e.g. in Amsterdam, Rotterdam, Groningen and Eindhoven). Politicians, public officials, economists and private citizens were among the active participants in the corresponding discussions.
WHAT // Panel discussion with experts on Linz
WHEN // February 9, March 7, June 13, 2008
WHERE // afo architekturforum oberösterrreich
www.architecturaltheory.eu
Download:
Angelika Schnell: Déjà Vu (only available in German)
Shumon Basar: "Wo liegt das Problem?" - Das ist das Problem (only available in German)
Roemer van Toorn: Für ein anderes Stadtspektakel (only available in German)
Press Information to Linz Status Quo
Download Press Photos Linz Status Quo
back