Linz Europe Tour East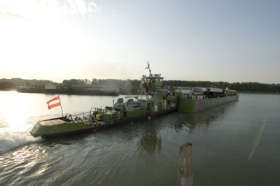 Nothing new in the East? On the contrary. In summer 2007 Hubert von Goisern floated down the Danube on a cargo boat as far as the Black Sea.
For two and a half months the boat, serving concurrently as living quarters and stage, carried Goisern and his band across Austria, Germany, Croatia, Romania, Bulgaria, Ukraine, Hungary, Serbia and Slovakia. In these nine countries Goisern and his band played 22 gigs accompanied by performing artists from the respective regions. "We were looking forward to each of these gigs with a tremendous sense of anticipation; we put everything into the development of the programme and profited from the exchange with our guest. Each gig was different." The Tour wound up in the home port, Linz. 8,000 enthusiastic fans turned up for a concert, a blend of alpine folklore, pure inspiration and raw pop rock from Eastern Europe.
WHAT // Tour
WHEN // June – September 07
WHERE // All the way down the Danube as far as the Black
www.hubertvongoisern.com

PARTICIPANTS // Besh o Drom, Claudia Koreck & Band, Druzina, Haindling, Haydamaky, Hohtraxlecker Sprungschanzenmusi, Karandila, Loredana Groza, Rambo Amadeus, Tamara Obrovac, Willi Resetarits, Zdob Si Zdub
BAND // Maria Craffonara (vocals, violin), David Lackner (piano, keyboards), Maria Moling (vocals, percussion), Alex Pohn (drums), Helmut Schartlmüller (bass), Marlene Schuen (vocals, violin), Severin Trogbacher (guitar), Darinka Tsekova (gadulka)
Tour-Galerie 2007
back