O÷ Stiftskonzerte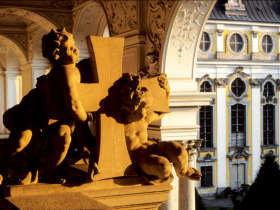 Copyright: Augustiner Chorherrenstift St. Florian
The St. Florian Monastery Church was the baroque setting of a performance of modern music: Alfred Schnittkes 2nd Symphony returned to the source of its inspiration.
The baroque St. Florian Monastery near Linz hosted a European Capital of Culture production in September 2009. The Bruckner Orchestra made a guest appearance in the Monastery's Basilica for an extraordinary performance in conjunction with the Upper Austrian Monastery Concerts series. The program included Symphony Nr. 2 "St. Florian" by Alfred Schnittke (1934-1998) and choral works by Anton Bruckner and Arvo Pärt sung by the Linzer Jeunessechor under the direction of Wolfgang Mayrhofer.
Schnittke's St. Florian Symphony was inspired by a visit to this very church. The work's structural organization follows the liturgical order of the Mass.
WHAT // Concert
WHEN // September 4, 2009
WHERE // The St. Florian Monastery of the Austrian Chapter of the Canons Regular of St. Augustine

IDEA // Dennis Russell Davies and Prelate Johann Holzinger
CONCEPT / PRODUCER // Upper Austrian Monastery Concerts
PERFORMING ARTISTS // Dennis Russell Davies, Bruckner Orchestra Linz, Linzer Jeunessechor

Press Information to O÷ Stiftskonzerte
back