Turmeremit / Hermit of the Tower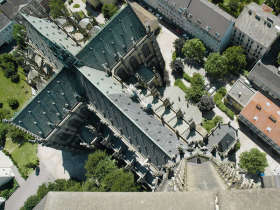 Copyright: Diözese Linz
395 steps to solitude: A week of silence and asceticism far from the hustle & bustle of the Capital of Culture.
For thousands of years, people have been withdrawing from daily life's commotion to arrive at a new way of seeing things. The Capital of Culture carried on this tradition in a small cell situated high in the steeple of St. Mary's Cathedral. Every week, it accommodated a new voluntary hermit (males as well as females). This place—adequately furnished with bed, table and chair—provided a suitable setting in which to examine ones life plan and the meaning of life in general. Despite the presence of an electrical outlet, hermits used neither computer nor cellphone. They recorded their personal reflections in a log that was passed on by each successive hermit. The daily "Observance of Silence with the Hermit" service in St. Mary's Cathedral made the retreat experience somewhat accessible to others. Photographers Miklos Boros and Paul Kranzler immortalized 22 of the hermits. These highly expressive portraits, excerpts from log entries and texts by guest authors have been collected in a lavishly illustrated volume (88 pages of prints) that is available for purchase (€19) at the Domcenter of St. Mary's Cathedral.
Following intensive deliberations, the Bishop Rudigier Foundation of Linz Diocese decided to carry on this project beyond 2009. The basic concept remains the same; only a few details have been changed. It will still be possible to occupy the Hermitage during Lent, throughout the summer and during Advent. Anyone interested in participating can obtain more information at the Domcenter, Herrenstraße 36, 4020 Linz, Tel.: 0732/946100,
domcenter@dioezese-linz.at
.
WHAT // Hermitage
WHEN // November 28, 2008-January 1, 2010
WHERE //
St. Mary's Cathedral Linz
IDEA / CONCEPT // Linz Diocese, Hubert Nitsch

Statement

Statement

Statement

Statement

Statement

Statement
Press Information to Turmeremit / The Hermit in the Tower
Download Press Photos Hermit of the Tower
Download Press Photos Press conference Turmeremit/The Hermit in the Tower, 30 October 2008
back