Festival der Regionen / Festival of Regions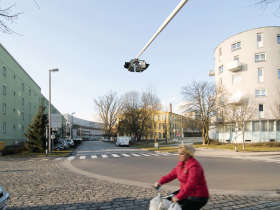 Copyright: Otto Saxinger
The 2009 Festival of Regions focused on Linz's southern periphery, particularly the suburb of Auwiesen and the residential developments in solarCity.
The Festival of Regions has been staged biennially since 1993 at different locations throughout Upper Austria. In its first 15 years, it made quite a name for itself as the place to go for cutting-edge, location-specific art and culture. NORMALITY, the 2009 festival theme, shifted the suburb of Auwiesen and the residential developments of solarCity from the periphery into the limelight. It asked: What characterizes urban life on the outskirts of town? How do things look from the southern edge of Linz, where one can perhaps observe with a certain distance the hustle & bustle of the Capital of Culture year lineup?
Working at the nexus of art and everyday life, the festival offered audiences a variety of artistic methods designed to enable them to get to know these parts of town a little better. At the same time, the residents themselves occupied the focal point of numerous projects. The mission was to make infrastructure available and to provide services that would facilitate the expansion of cultural offerings in both neighborhoods. Contributing to the excellent attendance at the 2009 festival were various special offers such as shuttle boat service from downtown Linz to solarCity. The active involvement of local residents and the well-attended meetings with them were indicative of the positive reception accorded to this project and whetted local activists' appetite to carry on with their own initiatives.
WHAT // Festival of contemporary art and culture
WHEN // May 9-June 1, 2009
WHERE // Linz South – Auwiesen and solarCity
www.fdr.at

IDEA / CONCEPT / PRODUCTION // Festival of Regions
PARTICIPANTS //


Free admission




Gallery
Press Information to Festival of Regions
back