Linz. Stadt im Glück. / Linz. City in Luck.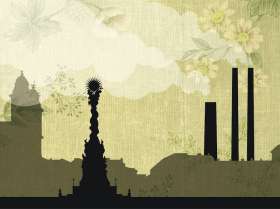 The Nordico Museum of the City of Linz morphed into a private residence whose rooms reflected the city and its development over the last 30 years.
LINZ. CITY IN LUCK set out in search of traces. What makes Linz a city of industry and culture? What events have left an indelible mark on the collective memory? How do the people who live and work here see their city? Topics and hypotheses connected with the local process of development were illustrated by individual events that substantially shaped Linz's identity over recent decades. The making of this exhibition entailed interviewing more than 80 men and women—business executives, politicians and public officials, and people active in the arts and culture.
The overall metaphor was a residential apartment that provided a graphic narrative of everyday life in Linz—Steel City kids roughhousing in the children's room, industry scrubbing itself clean in the bath, plans for flextime and outsourcing being hatched in the workroom, and the Capital of Culture dishing up its stories in the kitchen. Eleven narrative strands threaded their way through LINZ. CITY IN LUCK, accompanied by a variety of off-beat sidelights. It traced the main currents of Linz's history and, above all, strove to bring out the richly interwoven fabric of urban identity here. It focused on Linz's image ("Linz stinks" and "In Linz is where it begins"), the privatization of the voestalpine steel mill, manifestations of youth culture, and much more.
Over 5,100 visitors experienced the city's history in this very creative way—a fast-forward look at the last three decades in Linz.
WHAT // Exhibition
WHEN // June 5 - September 13, 2009
WHERE // Nordico – Museum of the City of Linzz
www.stadt-im-glueck.at

IDEA / CONCEPT // LIquA – Linzer Institute for Qualitative Analyses, checkpointmedia
PARTICIPANTS //
Press Information to Linz. City in Luck
Download Press Photos Linz. Stadt im Glück
back