Die andere Seite / The Other Side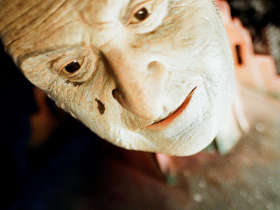 Copyright: Nick Mangafas
Alfred Kubin's only novel is about to hit the stage. Live action, puppet theatre and video sequences will breathe new life into this fascinating work.
Alfred Kubin died fifty years ago. His only novel, Die Andere Seite, was published one hundred years ago: two good reasons to throw open the stage for the author and his novel. In his 1908 DIE ANDERE SEITE, Alfred Kubin has his first-person narrator accept an invitation from a friend to visit the mystery-shrouded Perle. This twilit land and its bizarre inhabitants are under a hypnotic spell cast by their ruler, a destructive demon who is both invisible and omnipresent. The doom-laden city obeys the dictum of its creator: "Note how everything is conspiring to hurl us along the road to perdition – how everything urges and drives us towards dissolution." Mass paranoia, orgies, lootings, murders accompany the shipwreck of a dubious civilization. Is the artist indeed both the dreamer and the content of his dreams, as Kubin said?
Death fantasies, catharsis or metaphors for impending catastrophes: the novel supplies a basis rich in imagery for Martina Winkel's multimedia realisation. Winkel fuses traditional theatre and puppet theatre, video installations and animated puppets. The music is by Upper Austrian composer Max Nagl.
WHAT // Theatre
WHEN // 6. – 8. & 10. - 15. November 09
WHERE // State Gallery Linz

IDEA & DIRECTION // Martina Winkel
Composition // Max Nagl
PUPPETS // Roger Titley
ACTOR // Thomas Stolzeti



Gallery
Press Information to Die andere Seite
Download Press Photos Die andere Seite
back