Listening to Peace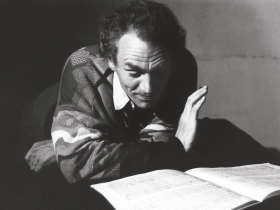 Copyright: O.B. Schneider
"Peace" has received the most diverse treatments down through the history of music—in warnings of impending war, critiques of militarism, and visions of what peace would truly be like.
"Dona nobis pacem," the prayer for peace, has been part of the Catholic mass since time immemorial. Numerous composers from the Renaissance onwards have based music on this phrase in the hope of thereby furthering the cause of peace. Today music can be a catalyst for a grassroots pursuit of peace, which has been a matter of special concern here ever since Linz declared itself a city of peace in 1986. The Symphony Orchestra of Anton Bruckner Private University performed three outstanding 20th-century compositions related to peace. Dieter Senghaas, one of the founding fathers of peace & conflict studies in German-speaking Europe and a man who has been LISTENING TO PEACE for 15 years, elaborated on these works. His commentary was preceded by older examples of musical prayers for peace performed by students at Musikschule Linz.
The "Concerto funèbre" by Karl Amadeus Hartmann, Arthur Honegger's "Third Symphony Liturgique" and two pieces from "Ten Marches to Miss Victory" by Mauricio Kagel made up a musically challenging program that gave the audience an opportunity to marvel at the exceptional artistry of the Symphony Orchestra of Anton Bruckner Private University conducted by Ingo Ingensand. The extremely demanding violin solo in Hartmann's work was brilliantly performed by up-and-coming star Veronika Draxler.
WHAT // Concert, address
WHEN // June 29, 2009
WHERE // Brucknerhaus
Press Information to Listening to Peace
Download Press Photos Frieden hören
back