UmLinzRum / RoundAboutLinz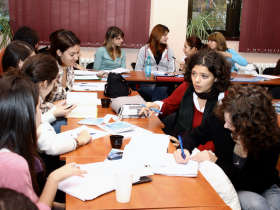 Copyright: Sebastian Vulcan
Writing workshops held in selected Capitals of Culture and partner cities exported literary impressions to Linz.
What's going on in the world at large and is there a connection to Linz? German-language creative writing workshops were held "'round about Linz" from 2006 to 2009 in seven partner cities. They delivered impetus to develop ideas and fantasies, and aroused enthusiasm for observation and interpretation. Each workshop was supervised by a more or less prominent author from the country in which it was held. This was a way for participants to learn writing techniques, to get feedback from experts, and come up with ways to revise and polish their works.
Prescribed topics established historical, cultural and social references and functioned as stimulating suggestions. Each workshop was prepared individually and oriented on the possibilities available on site. At the culminating event in 2009 at StifterHaus, the authors presented their texts as well as their impressions and prospects.
The project already got underway prior to the Capital of Culture year with a workshop in the Czech partner city Budweis, and was carried on in 2007-09 in Sibiu (Capital of Culture 2008), Nizhny Novgorod (partner city), Stavanger (Capital of Culture 2008), Duisburg (Capital of Culture Ruhr 2010), Istanbul (Capital of Culture 2010), Vilnius (Capital of Culture 2009) and Linz.
The three best texts from each of the seven workshops and selected photographs were collected in an anthology entitled "UmLinzRum" published by Books on Demand.
WHAT// Writing workshops
WHEN // 2006-2009
WHERE // Budweis, Sibiu, Nizhny Novgorod, Duisburg, Istanbul, Stavanger, Vilnius, Linz

IDEA / CONCEPT // Oskar Ters
PARTICIPANTS // Safeta Obhodjas, Laurynas Katkus, Adrian Gaspar Trio, Richard Schuberth


Participation free of charge
Press Information to UmLinzRum / RoundAboutLinz
Download Press Photos Reading "UmLinzRum" / "RoundaboutLinz"
back