"Kulturhauptstadt des Führers" / "The Fuhrer's Capital of Culture"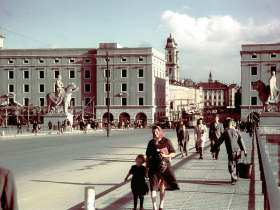 Copyright: Walter Frentz Collection, Berlin
Art and National Socialism in Linz and Upper Austria. The impact on cultural life and everyday life from 1938 to 1945.
Long before the inception of THE FÜHRER'S CAPITAL OF CULTURE exhibition, well-known journalist Norman Lebrecht alluded to "The Sound of Music" in asking "How do you solve a problem like The Fuhrer?" An essential, obligatory element of Linz09's mission in planning the European Capital of Culture program was to stage a bold confrontation with this issue and to create both suitable spaces and the right framework conditions in which to deal with new questions. It was incumbent upon Linz09 to provide an account that presented what is known about this time in new and diverse ways—for both the populace of Linz and visitors to this city to see.
Nor was this the first time that Linz occupied the focal point of cultural policymaking on a European scale. During the Nazi era, the Oberdonau administrative district's capital was transformed from a small provincial town into an industrial metropolis that did all it could to curry favor with the Fuhrer. And "…what was actually illicit about the project to turn the city of his youth into a cultural metropolis?" asked Albert Speer in his memoirs. But what was cultural life in Linz really like during the time of National Socialism? What continuities remained operative after its demise, and just how dramatic were postwar breaks with the past?
THE FÜHRER'S CAPITAL OF CULTURE, an exhibition assembled jointly by Birgit Kirchmayr and the staff of the Museum of the Province of Upper Austria, investigated these cultural, political and historical issues. It showed how Adolf Hitler's vision was for Linz to become one of the great cultural capitals of the world. The first part of this exhibition deals with the preconditions for artistic creativity; the second part concentrates on what these conditions brought forth in the fields of music, the visual arts, literature and the theater. The concept behind the choice of objects displayed and the elaborations accompanying them was to provide visitors with the capacity to form their own opinions.
THE FÜHRER'S CAPITAL OF CULTURE attracted tremendous public interest and 62,000 visitors from all walks of life. Due to the excellent attendance, the exhibition's run was extended for an additional week. There was detailed and comprehensive reportage in the international media, and the reviews were generally highly positive.
This exhibition was accompanied by a program of events including a series of panel discussions and two symposia: "Legacy or Liability?" and "The Sound of Power." The 2,500 copies of the two printings of the exhibition catalog are already sold out.
WHAT // Exhibition
WHEN // September 17, 2008-March 29, 2009
WHERE // Castle Museum Linz

CURATOR // Birgit Kirchmayr
PARTICIPANTS // Peter Assmann, Martin Hochleitner, Gerhard Katzlberger, Arnold Klaffenböck, Michaela Nagl, Manuel Schilcher, Regina Thumser, Dagmar Ulm
back