Das Buch der Unruhe / The Book of Disquiet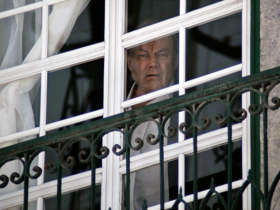 Copyright: Joost Rietdijk
Music Theater Based on a Work by Fernando Pessoa, Directed by Michel van der Aa, Starring Klaus Maria Brandauer
Pessoa's masterpiece was the point of departure for a new kind of music theatre. Composer and director was the up-and-coming Dutch artist Michel van der Aa. The music was by Linz's own Bruckner Orchestra under Dennis Russell Davies. The lead was played by Austrian stage and screen legend Klaus Maria Brandauer.
"The Book of Disquiet" was discovered in a chest in 1935 after Fernando Pessoa's death. Since then, it has been considered one of the essential works of literary modernism. The many observations, reminiscences, dreams and philosophical reflections of the fictional bookkeeper Bernardo Soares are highly inspiring. The work staged in Linz can be described as a contemporary Gesamtkunstwerk in which film, music and text merge together into something all its own and deliver an intensely moving experience.
The world premiere on January 2, 2009 was simultaneously the debut of its venue, the newly erected Hafenhalle09, and also kicked off the first Linz09 theater festival, THEATERMANIA1: SNOWSTORM.
WHAT // Music theater
WHEN // January 2-4, 2009
WHERE // Hafenhalle09

Composition, Libretto, Film & Director // Michel van der Aa
Actor // Klaus Maria Brandauer
Conductor // Dennis Russell Davies
Orchestra // Bruckner Orchester Linz
Film Cast // Ana Moura, João Reis et al.


back