Picnic on the Battlefield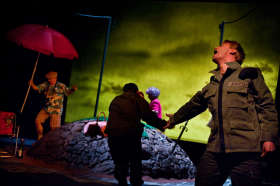 Copyright: Norbert Artner
An antiwar play by Fernando Arrabal is the basis for an opera by Constantinos Stylianou.
The Greek Cypriot composer Konstantinos Stylianou (born in 1972) has grown up in a conflict torn environment; for him it is simply a fact of life. Using the 1959 anti-war drama Pique-nique en campagne by Spanish author Fernando Arrabal as his basis, Stylianou kept the characteristics of the play that mark it as belonging to the Theatre of the Absurd, while radically condensing plot and dialogue to give the music more breathing space in what eventually became a one-act opera. The soldier Zapo is manning a military outpost solo. All of a sudden his parents turn up. Ignoring hostilities around them they organise a rollicking picnic. When Zépo, an enemy solider, appears, he is first taken captive only to be set free again to take his own part in the picnic. While the group are busy with an animated discussion about how wars can be avoided in future the unexpected strikes out of the blue…
In June 2009, the production made two guest appearances in Cyprus at Theater Nicosia and at Realito Theater Limasol. In July 2009, there was a partially staged performance at the International Bartók Festival in Szombathely, Hungary.
WHAT // music theatre
WHEN // Premiere 20 February 2009
WHERE // Landestheater Linz

LIBRETTO / COMPOSITION // Constantinos Stylianou
MUSICAL DIRECTOR // Ingo Ingensand
DIRECTOR // Tobias Ribitzki
SCENOGRAPHY // Florian Angerer
DRAMATURGY // Sarah Schäfer
ORCHESTRA // Bruckner Orchestra

Gallery
Press Information to Picnic on the Battlefield
back