Challenging Music, Dance and Performance: The Electronic Media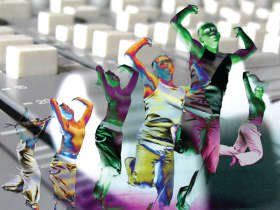 An international debate on the interplay of art and the electronic media: current trends, cross-pollination and impetus.
The stellar array of attendees included Helga de la Motte, Katheleine Forde and many other proponents of a variety of leading-edge approaches to the symposium's theme. This interdisciplinary encounter brought out opportunities, limits and challenges inherent in the reciprocal impact of the arts and the electronic media, including their theoretical, technological, sociological, aesthetic and pedagogical implications.
A linkage also emerged between the symposium and Linz09's Acoustic City project: Jacques van Vlasselaers spoke about R. Murray Schafer, a Canadian composer and acoustic philosopher whose work has provided orientation for Acoustic City's development ever since the project's inception.
WHAT // Symposium & Workshops
WHEN // August 31-September 2, 2009
WHERE //
Anton Bruckner Privatuniversität Linz
IDEA / CONCEPT // Peter Revers
PARTNERS & ASSOCIATES // Ars Electronica Center / Ludwig Boltzmann Institut / Institut für Computational Perception JKU / Kunstuniversität Linz / Institut für elektronische Musik Graz / Österreichisches Forschungsinstitut für Artificial Intelligence / Kunsthochschule für Medien Köln / Alexander von Humboldt-Stiftung Bonn / Institut für Medienpädagogik und empirische Medienforschung Paderborn / Hochschule der Künste Bern / MIT Media Lab Cambridge, Mass / Carleton University Ottawa / Experimental Media and Performance Art Center, Troy (N.Y.) / Center for Computer Research in Music and Acoustics, Stanford
Press Information to Challenging Music, Dance and Performance: The Electronic Media
back