Turmmusik / Tower Music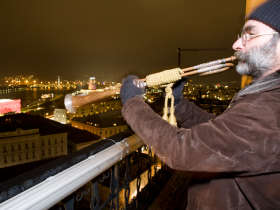 Linz composer Romanus Weichlein was assigned a musical place of honor in 2009. His praises were sung from the steeple of the City Parish Church.
With the last advertisement for the position of a tower warden—which in fact no longer existed in 1842—a centuries-old Linz tradition provisionally came to an end. In the past, the tower warden's tasks had been manifold: in addition to blowing horns for signaling purposes, the tower wardens were also responsible for church music, provided music at weddings and funerals, and were regarded as an indispensable element of the pomp and circumstance of official occasions. At major events, they had to support their colleagues from the ranks of provincial trumpeters. One of the most important responsibilities of the tower wardens, however, was the fire watch. A good tower warden was able to play a number of instruments in addition to the trumpet, such as sackbut, cornet and violin. He was also obliged to give musical instruction to his journeymen and other students.
In 2009, new life was breathed into the office of the tower warden. Every day at 6 PM, trumpet music resounded in all directions from the old tower warden galley of the City Parish Church. On weekdays, the signals were sounded by teachers and students in the trumpet classes of Heinz Ulz and Markus Reisinger at Linz Music School. On Sundays, teachers and students from the natural trumpet class taught by Franz Landlinger and Wolfgang Gaisböck at Anton Bruckner Private University played clarino duets by Romanus Weichlein, a composer who created hundreds of fanfares for the clarino, the precursor of the trumpet, and can legitimately be regarded as the star composer of the Baroque Era. He was born in the house at the corner of Neutorgasse and Rathausgasse and was one of the great creative minds in the history of Linz, the city of Kepler, Stifter and Bruckner.
WHAT // Tower music
WHEN // November 29, 2008-December 31, 2009, 6 PM
WHERE // City Parish Church

IDEA // Gunar Letzbor (Ars Antiqua Austria)


Free admission
back