Orgelstationen / Organ Stops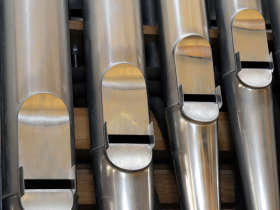 Copyright: Linz09
A short organ recital was held at one of six downtown Linz churches every weekday between Easter and October 24, 2009.
Stops are places where movement temporarily ceases; churches are places of quiet contemplation. ORGAN STOPS were Linz churches' invitations to pause for a while and be at peace. They were not meant as stops preventing those on the go from moving forward; they offered a bit of tranquility, time to reflect, to put things in perspective, to refresh the soul. ORGAN STOPS let folks get away from the noise of the streets, workplace stress, omnipresent acoustic pollution. They gave people the chance to come together and chart a new course. After all, organ music can intensify both quiet meditation and listeners' concentration.
Organists from Austria and abroad made what Mozart called the "queen of instruments" resound royally. Each concert in the Parish Church, St. Ignatius' Church and the Ursuline Church was followed by a guided tour for a small fee.
The concerts continued in the Ursuline Church after 2009 on six Saturdays during Lent and on nine Sundays in summer. And as always, visitors can hear organ music at Vespers every Tuesday at 5:15 PM in the Martin Luther Church.
WHAT // Organ concerts
WHEN // April 13-October 24, 2009, daily except Sunday at 5:15 PM
WHERE // Parish Church, Martin Luther Church, St. Ignatius' Church/Old Cathedral, Minorite Church, St. Mary's Cathedral, Ursuline Church

IDEA // Peter Paul Kaspar
CONCEPT // Musica Sacra, Heinz Karl Kuba
ORGANISTS // Rudolf Jungwirth, Kristian Schneider, Bernhard Prammer, Rupert Gottfried Frieberger, Wolfgang Kreuzhuber, Peter Paul Kaspar

Free admission
Press Information to Organ Stops
Download Press Photos Orgelstationen
back