Unerhört / Unheard of
Part of
Circus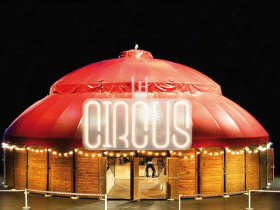 Copyright: Festspielhaus St. Pölten
An audible journey to visible music with 3 actresses and 5 trumpeteers.
"The conductor spreads out his
arms the orchestra flutters in space"
from: Ernst Jandl, The Fantastic Orchestra
Major solo for a conductor…Martha stands alone on the podium, no orchestra in sight – she seems odd, grotesque, and yet no one can can resist the pull of this performance.
She is different. She dreams of a score that will unite everyone and sets out on a journey through mu-sic… but do you hear what she sees? Do you see what she hears? Even if she is laughed at to begin with, curiosity triumphs in the end. This timeless conflict between normal and different is newly told especially for a young audience.
Visual music lets us perceive sounds differently and makes it possible to experience them. What Martha is conducting will be heard by everyone differently. A world of sound emerges for the eyes, the ears – for all the senses.
Idea /Concept // Bernhard Costa
Concept / Regie // Alex. Riener
Performing Artists //
Bernhard Bär, Trumpet
Wolfgang Gaisböck, Trumpet
Bernhard Mühringer, Trumpet
Anders Nyqvist, Trumpet
Aneel Soomary, Trumpet
Melita Jurisic, Acting
Claudia Kottal, Acting
Stefanie Philipps, Acting
Hannes Salat, scenery
Sabine Ebner, costumes
A coproduction with Jeunesse - Musikalische Jugend Österreichs.
www.jeunesse.at
A project in the course of
Circus
to the main project page
back