Schäxpir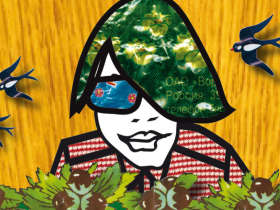 Clear the stage for fresh, dynamic, young theatre! Raise the curtain on 150 unusual performances!
The fifth edition of this international theatre festival for young audiences once again brought exciting, daring and unusual plays to the stage. Even prior to the commencement of the festival itself, SCHÄXPIR worked together with Linz09 to bring about four international co-productions. These commissioned plays dealt with Linz and the concerns of kids and young people living here. The curtain raiser was "Me gusta" by Laika, a tasty theatrical extravaganza somewhere between tea ceremony and cannibalism, a culinary adventure with a bow to Austrian food & beverage rituals. In conjunction with EXTRA EUROPA, Sgaramusch from Switzerland and the Norwegian multinational troupe NIE took a close look at the wishes and dreams of children in Linz: aboard the historic Danube steamer MS Schönbrunn, visitors made their way from cabin to cabin, encountering exciting, fantastic stories along the way. "Rumor" was the Dutch group Het Lab's elaboration on the subject of xenophobia. In it, a busy spot in downtown Linz morphed into a stage for improvised mini-dramas. A dance production entitled "Solar City" brought together members of the Belgian ensemble Kopergietery with the Linz-based Voest Chorus, artists and beach volleyball players—an exciting theatrical match on the subject of the generations and myths of Steel City!
This special edition of Schäxpir—normally a biennial affair—attracted more than 20,000 young theatergoers.
WHAT // International theatre festival for young audiences
WHEN // June 25-July 5, 2009
WHERE // Linz, Wels, Steyr, Gmunden, including Landestheater Linz, Theater Phönix, Theater des Kindes, Posthof Linz, Hafenhalle09, OK Center for Contemporary Art, Stadttheater Wels, Altes Theater Steyr, Stadttheater Gmunden
www.schaexpir.at

IDEA / CONCEPT // Julius Stieber, Stephan Rabl
Wir sind Linz / Linz is us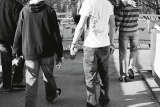 25.06.2009 - 23.10.2009
For SCHÄXPIR 2009, u\hof: developed an extraordinary revue that sought to establish a personal dialog with young people age 12-18 from all parts of town and representing all social strata and ethnic backgrounds.
more
back