Kulturlotsinnen / Culture Pilots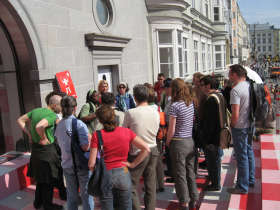 Copyright: Ruth Karner
Twelve female immigrants to Linz guided walking tour groups through the inner city and showed them the fascinating world they inhabit.
A defining feature of the neighborhood surrounding Wiener Straße is its high proportion of immigrants. Native-born Austrians might notice new stores opening and hubs of activity emerging but rarely get much more than a fleeting taste of vibrant everyday life in this part of town. The 12 women serving as CULTURE PILOTS offered a glimpse into the day-to-day life of immigrants. These unconventional city tours were designed to confront locals and tourists alike with human beings, circumstances, origins, causes and real-life facts. The women went through a training program in which they dealt with their own history, concepts of culture and the neighborhood in which they live.
Through their personal view of their physical surroundings and their own connection with their individual history, they opened up new insights into the everyday life of immigrants and into the cultural diversity of Europe's Capital of Culture. Six different guided tours were offered, each developed and accompanied by two women from two different cultures.
Following the Autumn 2009 tours, the CULTURE PILOTS reconstituted themselves as
ibuk
and got involved in other projects like LIBRARY OF 100 LANGUAGES. For the high level of commitment they displayed in this new form of imparting knowledge, the CULTURE PILOTS were honored in November 2009 with the Austrian State Prize for Adult Education in the Innovation category.
WHAT // Guided tours
WHEN // Summer and autumn 2009
WHERE // Downtown Linz
The Culture Pilots' blog

IDEA / CONCEPT // BFI–Career Advancement Institute Upper Austria
PARTICIPANTS // Monika Pramreiter and Birgit Kaps (concept and supervision), Eva Gütlinger (consultation), Erika Rockenschaub (coordination), Ruth Karner (training and project management)
Gallery
Press Information to Kulturlotsinnen / Culture Pilots
Download Press Photos Kulturlotsinnen
back