Linz Europa Hafenfest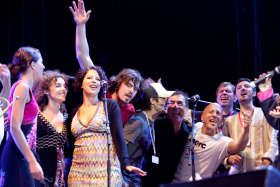 Hubert von Goisern + Band
Copyright: Alex Davies
Hubert von Goisern and Friends
The LINZ EUROPA HAFENFEST on July 3-5, 2009 was the culminating highlight of the LINZ EUROPA TOUR 2007-2009 starring Hubert von Goisern. As Linz09's goodwill ambassador, he sailed his waterborne stage up and down Central Europe's great river roads: first to the Black Sea in 2007, then to the North See in 2008.
In Summer 2009, he was reunited in Linz with his musical traveling companions and some of the local acts featured at concerts along the way. THE LINZ EUROPA HAFENFEST was a European musical encounter of East and West.
This was the first time Linz Harbor served as the venue of an event of this magnitude. More than 100 musicians from six countries convened in Linz for the three-day festival, and an audience of 10,000+ experienced this one-of-a-kind musical extravaganza that brought Europe a little closer together. A big Sunday treat was surprise guest Xavier Naidoo's declaration of his love for the Capital of Culture.
For the grand finale, musical artists from six countries gathered on stage for a joint rendition of the refrain of the final song, a farewell anthem entitled "Schluss, aus und vorbei." On stage in Linz Harbor, they delivered an intense display of their incredible energy, the pleasures they derive from making music, and their joyous collaboration with other musicians. The effect among all those who witnessed this extraordinary celebration of great music was absolute exhilaration!
WHAT // Music festival
WHEN // July 3-5, 2009
WHERE // Festival grounds: Linz Model Airplane Field
How to get to the Hafenfest
Info-Folder (german)
Information is also available online at
www.hubertvongoisern.com
.



Gallery
Press Information to Linz Europa Hafenfest
Download Press Photos Linz Europa Hafenfest
Download Press Photos Press Conference Linz Europa Hafenfest, 5 March 2009
back