Cultural Capital Neighbourhood of the Month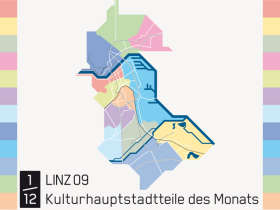 Everybody was entitled to a piece of the Capital of Culture action!
Linz09 launched this pilot project by extending invitations to institutions, associations, groups and individual activists from all the city's neighborhoods to attend a round table. The idea was for the whole town to get actively involved in designing the Capital of Culture year program. The approach entailed coming up with innovative ideas that would bring out the essence of life in this city in a charming and creative way. The experiment succeeded! The CAPITAL OF CULTURE NEIGHBORHOOD OF THE MONTH title rotated through town nine months long. It accomplished something that was unprecedented and—to formulate it as a wish—was hopefully just the beginning. Neighborhoods gave an account of themselves. Put on plays. Organized exhibits. Created a presence in the public sphere. Renamed themselves and moved on. Needless to say, a bit of "pomp and circumstance" was part of the mix, and the monthly "changing of the guard ceremony" was marked accordingly—KUNSTPALAST, the mobile home of artistic duo Juhann and Jod, accompanied the goings-on and provided for a celebratory setting where departure encountered arrival. In Summer 2009, the hub of Neighborhood of the Month activities shifted to the Bindermichl/Spallerhof Landscape Park, where the big yellow house named BELLEVUE showcased the everyday events and extraordinary happenings of life in Linz's neighborhoods.
The projects were as diverse as the parts of town themselves, but a few recurring, basic themes emerged. What does hospitality mean? Who make their mark on the public sphere and to whom does it belong? What stories do we have to tell one another? The 120 actions and events were attended by about 15,000 neighbors, residents of other parts of town, and Capital of Culture guests. Accustomed ways of seeing things were edged aside by new perspectives. Now, an invisible thread connects all these neighborhoods. New acquaintances were made; new ideas born.
So let it be said: whoever didn't hunt seahorses in the Danube, didn't visit a gallery on laundry poles, didn't take a seat on the Wandering Bench or atop a dike, didn't give the shirt off her back or extend his gracious hospitality, and didn't spend even a single evening on a blind date really missed something in Linz during 2009.
WHAT // Best of Neighborhoods
WHEN // January and March - October 2009
www.kulturhauptstadtteil.at

IDEA / CONCEPT // Linz09/Tamara Schwarzmayr based on an idea by Ingo Mörth
PROJECT DIRECTORs // Claudia Dworschak/Tamara Schwarzmayr/Marie-Therese Strasser
PARTICIPANTS // Coalitions of associations, institutions, groups and individual activists from the neighborhoods of Linz

Free admission


Capital of Culture Neighborhood of the Month: A Recap
more
Gallery
Press Information to Cultural Capital Neighbourhood of the Month
Download Press Photos Cultural Capital's Neighbourhood of the Month
Download Press Photos Press Conference Cultural Capital Neighbourhood of the Month, 06 November 2008
back