Biennale Cuvée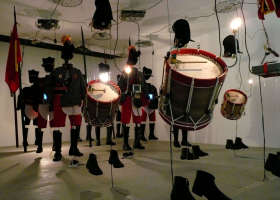 Copyright: Otto Saxinger
World-Class Contemporary Art
The OK Center for Contemporary Art exhibited a selection of works from the most interesting biennials of 2008 with a particular focus on Asia.
Biennials are today's most interesting showcases of contemporary art. Less commercially oriented than art fairs, they are a stage both for "big names" and for up-and-coming young artists, for whom this is perhaps their first chance to present their work on the international stage. Biennials define who is going to be in the spotlight; they identify trends, and they even launch them. Their greatest merit lies in arousing a great deal of interest in contemporary art among a public that is not confined to regulars on the art fair circuit.
In conjunction with the "Art in the City" series, BIENNALE CUVÉE 2009 exhibited works in the OK Center for Contemporary Art and in public spaces. A total of 38 selected artists and groups from 23 countries made guest appearances in Linz. In addition to the show at the OK, venues included the Chamber of Labor of the Province of Upper Austria, Energie AG's Power Tower and the Wissensturm near the main train station. There, amidst the world of work and everyday life, artists presented creations that had a thematic and architectural connection to their respective locations. The project also featured several lectures and comprehensive educational offerings designed to mediate audiences' encounters with these outstanding and quite challenging works of contemporary art.
WHAT // Exhibition
WHEN // February 27 – May 15, 2009
WHERE // OK Offenes Kulturhaus, Chamber of Labor of the Province of Upper Austria, Energie AG, Wissensturm

IDEA / CONCEPT // Martin Sturm, Manray Hsu
PROJECT DIRECTOR // Rainer Jessl
Gallery
back