Growing Union – Europe 's Plant Life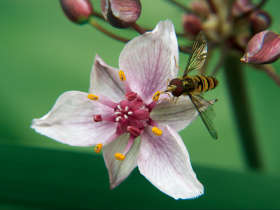 Copyright: Werner Bejvl
The Botanical Garden put on a truly European garden show.
The Greeks have sung the praises of the olive tree ever since Antiquity. For Goethe, Italy was the land where lemons bloomed. And even if its image is less positive elsewhere, in Estonia the cornflower symbolizes the health of rye fields and of the daily bread. Could the botanical world teach us more about each of the EU's 27 member states?
It was worth a try. This European garden show was based on an idea by Greta and Rainer Hauptmann; collaboration with Linz's Botanical Garden brought it to fruition. Over the course of the Capital of Culture year, plants symbolizing the EU's 27 member states grew together into a harmonious ensemble. A stylized, walk-through map of Europe presented each individual country in the form of its signature plant. This unique approach—a path in the literal sense of the word—was a way to get better acquainted with the neighbors and to observe the whole garden's growth over the course of the year.
WHAT // Garden show
WHEN // May 9-October 4, 2009
WHERE // Botanical Garden Linz

IDEA / CONCEPT / Realisation // Greta & Rainer Hauptmann, Friedrich Schwarz
Gallery
Press Information to Growing Union
Download Press Photos Growing Union - Europa Botanisch
back