Höhenrausch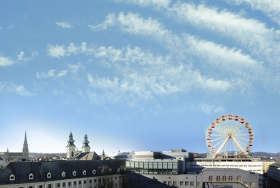 Copyright: OK
Art atop the roofs of Linz: An extraordinary mix of fun-park-style thrills, high-altitude hike, and art experience.
The third installment of the Art in the City trilogy moved Linz skyward and culminated in its uppermost spheres. In HÖHENRAUSCH (high-altitude euphoria), the OK took leave of terra firma and scaled an innovative summit. As a follow-up to shop window displays (SCHAURAUSCH, Browsing Spree) and underground passageways (TIEFENRAUSCH, Rapture of the Deep), Linz09 ascended to the rooftops. Taking off from the confines of the inner city; up, up and away to an attractive high level with the OK itself serving as "heaven's gate." An adventurous round-trip path proceeded via parking deck and mall roof through the OK to the Ursulinenhof complex. This was an ingeniously conceived walkway system combining stairs, plateaus and bridges. The star of the show was the city itself that lay spread out at viewers' feet. The red Ferris wheel perched on a downtown rooftop became a Linz09 landmark and an attraction that drew Capital of Culture guests from throughout the region and abroad.
During its 150-day run, HÖHENRAUSCH recorded attendance of 272,000, which made it one of the most successful contemporary art exhibitions ever held in Austria. The Art in the City trilogy staged over the course of three years temporarily installed works by 118 artists at extraordinary public locations charged with significance.
WHAT // Rooftop exhibition
WHEN // May 29-October 31, 2009
WHERE // OK Offenes Kulturhaus Oberösterreich
www.hoehenrausch.at

IDEA / CONCEPT // OK Center for Contemporary Art
CURATORS // Paolo Bianchi & Martin Sturm
EXHIBITION ARCHITECTURE // Atelier Bow-Wow, Tokio (in cooperation with Riepl Riepl Architekten, Linz)
ARTISTS // Atelier Bow-Wow (JPN), Maider López (ESP), Pierre Bismuth (FR/BE), Martin Music (AUT), Paul DeMarinis (USA), Werner Pfeffer (AUT), Inger Lise Hansen (NOR), Pipilotti Rist (SUI), Ricardo Jacinto (POR), Roman Signer (SUI), Shih-Yung Ku (Taiwan), Andreas Strauss (AUT), Georg Lindorfer (AUT), Serge Spitzer (USA), Fiona Tan (NED), Leonid Tishkov (RUS), Mali Wu (Taiwan), Erwin Wurm (AUT)
A HISTORY OF ASCENSIONS AND CRASHES // Brigitte Felderer
EXHIBITION DESIGN // Hans Kropshofer, Gerald Lohninger
Video
Gallery
Press Information to Höhenrausch
Download Press Photos Höhenrausch
back