Megahertz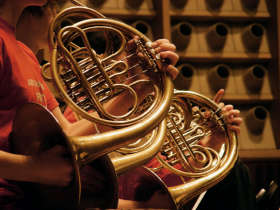 Copyright: Werner Andraschko
A high-volume festival for young people. Waves of sound and visitors. A heart warming prospect.
The 10th European Youth Music Festival celebrated music, Europe and Linz, sound, movement and the future. More than 6,000 participants from all over Europe put together a program oriented primarily—but not exclusively—on the needs of young audiences. Under the motto "Europe Moves Together," Austrian musicians and their counterparts from abroad made music at many venues in Upper Austria including Bad Ischl and vicinity, Bad Schallerbach, Freistadt and vicinity, Gmunden, Kirchdorf, Linz, Mondsee, Ried, Steyr, Vöcklabruck and Wels.
An essential part of the festival was the General Assembly of the European Music School Union (EMU) in Gmunden. Delegates from all 26 member countries convened for a top-echelon international music forum that discussed international trends and European currents. Focal-point themes included the key role music schools play in passing on cultural traditions and sensitizing people's hearing as a counterweight to our "crank up the volume" society.
The highlight of the grand finale concert by all participants was the performance of the "musical wave" on Linz's Main Square. Total attendance at the various festival concerts during this music-filled week exceeded 50,000.
WHAT // 10th European Youth Music Festival
WHEN // May 19-24, 2009
WHERE // Throughout Upper Austria
www.megahertz.at


Free admission
Press Information to Megahertz
back