Gangarten / Go your Gait!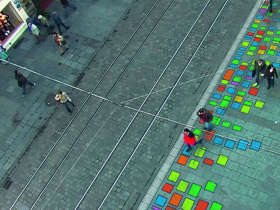 Copyright: katrinem
Linz as reflected by the rhythms of its sister cities
People's gaits are among the movement patterns that differ most from individual to individual. They are made audible by the sounds of our steps, by the regularity of how we put one foot down in front of the other. The result is a distinctive rhythm.
Recordings were made of pedestrians in Linz, in its sister cities and in other urban partners & associates. A five- to 10-minute audiovisual sequence was produced about each place, the theme of which is the gaits and walking rhythms of the particular city's inhabitants. The acoustic score is generated by location and place, streams of movement and different gaits. The acoustic foundation is the specific "sound of the city"—for instance, the waves breaking on the beach or the humming air conditioners (rather ironically called "Silencys") in Albufeira, the squeaking of the e-bikes in Chengdu, and the temple bells or the noise of the seaweed toasters in the markets of Gwangyang.
These distinctive features of unique places were showcased in Summer 2009 in Wissensturm. In addition to the videos, a travel diary and photos documented the visits to these cities and elaborated on the selection of sounds and locations.
WHAT // Exhibition
WHEN // May 14 – August 14, 2009
WHERE // Wissensturm
IDEA / CONCEPT // katrinem

Free admission
go your gait! part6_linz from katrinem on Vimeo.
Press Information to Gangarten
back