Brauhaus / The Brewery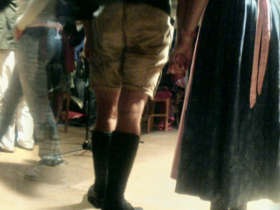 Copyright: Susanne Posegga
An initiative fostering the further development and presentation of innovative currents in and sensitive interpretations of the folk culture of Alpine regions in the areas of architecture, music, dance, clothing and cuisine.
Just like the name says: In Brauhaus, things were brewing!
But not with malt and hops! Here, yodeling, electronics, dirndls, the waltz, floral patterns, folkdance, dumplings, the polka, indie music, breakdance, architecture, blueberries, laptops, marching band music, ballads, dance floors and lots of other such ingredients were stirred together according to new recipes.
The lineup included premieres of new musical compositions, workshops for peasant dresses with a modern cut, and folk dancing to contemporary beats. In Brauhaus' own restaurant, visitors could enjoy traditional regional fare in updated fashion—all dishes were delivered from Gasthof zu Post in Ottensheim in preserving jars. This out-of-the-ordinary program attracted fans of genuine folk culture along with young people from the indie scene. Such interesting mixtures of elements from across the age spectrum attracted highly diverse and colorful audiences to BRAUHAUS events.
WHAT // Folk culture festivals, folk music clubbing, workshops, discussions
WHEN // August 27 – September 18, 2009
WHERE // afo architekturforum oberösterrreich

CURATORS // Susanne Posegga, Gotthard Wagner
ARCHITECTURE // Margit Greinöcker, Tobias Hagleitner, Gunar Wilhelm
Gallery
Download Press Photos Brauhaus / The Brewery
back