Linz Texas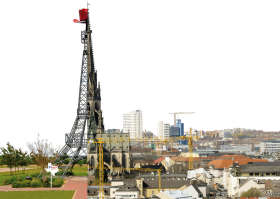 Copyright: Stadt Paris Texas/Jakob Winkler, Montage: MVD
A City Relates
As a lead-in to the Capital of Culture Year, the LINZ TEXAS exhibition playfully compared Linz to various and sundry places around the globe.
Linz is a medium-sized city, a trait it shares with most other European cities. What have Linzers made of this? A look at the recent past reveals that Linz has repeatedly succeeded in taking advantage of its situation in the middle—where industry interfaces with culture, at the nexus of big business and small-town life, between Austria's tourism heavyweights, Vienna and Salzburg—and developed a remarkable talent for reinventing itself. Just consider the transformation of Linz's infrastructure and the metamorphosis of its image as this industrial center inextricably linked to the Nazi era turned into the cultural metropolis that brought forth Forum Design and Ars Electronica. But what in the world does Linz have in common with Haifa, Wolfsburg, Paris and Texas? Which qualities does it share with Moscow, Manchester and Davos?
LINZ TEXAS presented Linz as the prototypical mid-size city—as a place that combines industry and culture, a major market amidst a natural landscape, a point between hotspots for tourists in Vienna and Salzburg—and it took a whimsical approach to Linz's new identity as European Capital of Culture. With tongue firmly in cheek, the show drew a series of more or less far-fetched comparisons intended to cast the city and its qualities in a new light. The exhibition premiered at Vienna's Architekturzentrum and then ran at Stadtmuseum Graz and Galerie Aedes in Berlin. Attendance at the three venues totaled 12,300. The accompanying catalog "LINZ TEXAS. Eine Stadt mit Beziehung" was published by Verlag SpringerWienNewYork.
WHAT // Exhibition
WHEN // June 2008-January 2009
WHERE // Architekturzentrum Wien, Stadtmuseum Graz, Aedes Berlin

IDEA / CONCEPT // Angelika Fitz, Az W/Dietmar Steiner, Linz09/Martin Heller, Gudrun Wallenböck
PARTICIPANTS // Angelika Fitz (curator), arquitectos/Heidi Pretterhofer (exhibition arhcitecture), mvd Austria/Michael Rieper, Georg Skerbisch and Christine Schmauszer (graphics), Christina Nägele (curatorial assistant)
Press Information to Linz Texas
Download Press Photos Linz Texas
Download Press Photos Press Conference Linz Texas in Graz, 24 September 2008
back