Zu Gast bei Stifter / Lunch with Stifter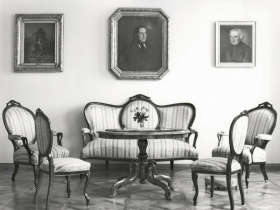 Copyright: StifterHaus
Noontime readings and a midday meal made for a leisurely literary lunch.
For almost 20 years, Linz was the center of daily life of Adalbert Stifter (1805-1868), who wrote some of Austria's most enduring masterpieces in what is now known as the StifterHaus. His former residence and workplace has been a center for contemporary literature and language, a place of encounter for authors and their readers since 1993. The great writer would have approved—hospitality was important to Herr & Frau Stifter, as was gracious dining. StifterHaus and Linz09 combined these two passions and invited 20 Upper Austrian authors to come over for "Soup Readings," whereby the guest list was intentionally limited to writers with long-term personal connections to Linz and Upper Austria. The authors not only brought along texts freshly picked from their literary garden; they were also responsible for the composition of the midday gathering's culinary culmination. Following a reading lasting precisely 30 minutes (including the introduction of the day's guest), the audience was invited to jointly partake of a light lunch in the form of a bowl of soup (whereby the recipes' places of origin were scattered far and wide beyond Upper Austria's borders).
A rather unusual but highly effective approach to stress reduction—and thus, literature as a way to "decelerate" everyday life.
StifterHaus is continuing to host LUNCH WITH STIFTER get-togethers in 2010.
WHAT // Readings
WHEN // 20 Thursdays in 2009, 12:30-1:30 PM
WHERE // StifterHaus

PARTICIPATING AUTHORS // Reinhold Aumaier, Margret Czerni, Adelheid Dahimène, Hans Eichhorn, Erwin Einzinger, Eva Fischer, Rudolf Habringer, Walter Kohl, Ludwig Laher, Fritz Lichtenauer, Patricia Josefine Marchart, Kurt Mitterndorfer, Walter Pilar, Elisabeth Vera Rathenböck, Elisabeth Reichart, Andreas Renoldner, Waltraud Seidlhofer, Wilfried Steiner, Richard Wall, Andreas Weber
IDEA / CONCEPT // Petra-Maria Dallinger, Regina Pintar, Erich Brandl


Free admission
Download Press Photos Zu Gast bei Stifter
back