sicht:wechsel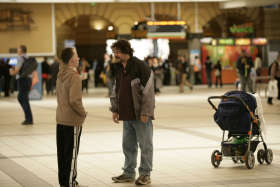 Back to Back - Small metal objects
Copyright: Jeff Busby
Linz09 and the sicht:wechsel festival showcased as an integral part of the Capital of Culture program art created by people with and without handicaps.
The integrative festival sicht:wechsel and Linz09 collaborated throughout 2009 to present culture by and for people with and without handicaps. And to present it not as a niche product but rather as an integral part of society's regular cultural calendar. In addition to guest productions, project offerings included cooperative undertakings and (continuing professional) educational courses.
The four categories of sicht:wechsel's activities are: moving, acting, meeting and dancing. The multifarious results of these efforts were presented throughout the year at a variety of venues. Several of the productions were part of the lineup of other festivals such as THEATERMANIA1 & 2.
Of particular note was a theatrical highlight: "Small Metal Objects" staged in Shoppingcity Wels by the Australian company Back to Back Theatre. Audience members outfitted with headphones witnessed an intensive personal drama played out amidst shoppers going about their business in a mall, whereby the boundaries separating the observers from the observed gradually dissolved.
WHAT / Integration & Theater
WHEN // January, April, August and November 2009
WHERE // Linz and Wels
www.sicht-wechsel.at

IDEA / CONCEPT // sicht:wechsel/Elisabeth Braun, Alfred Rauch, Linz09/Airan Berg

Press Information to sicht:wechsel
back