Ruhepol Mariendom / Acoustic Refuge St. Mary's Cathedral
Part of
Hörstadt / Acoustic City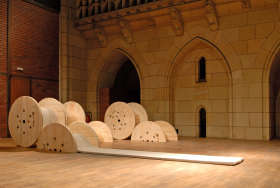 Ruhepol Mariendom
Copyright: Gerhard Wörnhörer
Following up on the Centralkino Acoustic Refuge, a second space dedicated to quiet contemplation was installed in Rudigier Hall of St. Mary's Cathedral.
The second Acoustic Refuge was set up in Spring 2009 in a space in the Cathedral with quite remarkable origins. To mark the 100th anniversary of the laying of the Cathedral's foundation stone in 1862, plans were set in motion to install a superb organ to commemorate the man who was the driving force behind the church's construction, Bishop Rudigier. This Rudigier Organ was indeed completed in 1968, though at a very high price—the spectacularly beautiful rose window that had bathed the cathedral's interior in magnificent light was barricaded. The result is a space that is one-of-a-kind in Europe. The Rudigier Hall is 10x10 meters square and 20 meters high. Its proportions, its acoustics and its atmosphere are all unique. It's as if it were meant to serve as an acoustic refuge.
The given spatial structure and lighting conditions were further intensified by minimal artistic interventions. Linz native Rainer Jessl developed a light installation that draws upon the Cathedral's existing lighting situation, which is determined by the sun's arc across the heavens and the impressive rose window. This lightshow culminates at dusk when the giant stained-glass window glows with the sun's last rays. No spotlight can match this spectacle. As daylight ends, the impression of floating water pervades the rotunda.
The only objects in Cathedral Acoustic Refuge's interior are relaxation-enhancing furnishings created by Tobias Hagleitner, Gunar Wilhelm and Richard Steger, the designers of Centralkino Acoustic Refuge. All furnishings are made out of large cable spools. These raw plywood drums—some cut in half, some whole—have been covered with textile strips and thus serve as recliners and lounging areas with sumptuous felt surfaces. The geometry of the spools enables users to enjoy a protected feeling of seclusion and undisturbed relaxation while simultaneously directing users' attention up to the rose window and to Rainer Jessl's light installation.
The Acoustic City's Acoustic Refuge project was based on an idea by Viennese urban researcher and acoustician Peter Payer, whose concept was, in turn, inspired by an early 20th-century precursor. Almost 100 years ago, Dresden physician R. Sommer set up a public hall of silence that was a very popular feature among visitors to the Hygiene Exhibition there. The aim of this historical model of a publicly accessible acoustic refuge was above all to have a calming effect upon citydwellers who had been made "nervous," edgy and irritable by their increasingly noisy surroundings and the acceleration of everyday life. Thus, a major part of Acoustic City's mission was to establish a space amidst the cityscape that was free of noise pollution and that enabled people to experience the elementary auditory phenomenon of silence in a non-religious setting. The almost 13,000 visitors to this space attested to the need for and interest in an acoustic refuge.
WHAT // Acoustic refuge
WHEN // May 21 - October 26, 2009
WHERE // St. Mary's Cathedral, Herrenstraße 26, 4020 Linz
www.mariendom.at
Gallery
Press Information to Ruhepol Mariendom
Download Press Photos Ruhepol Mariendom
to the main project page
back