Opening09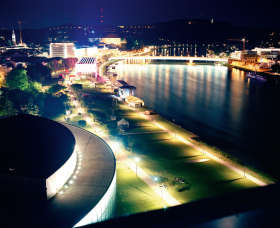 Copyright: Paul Kranzler
On New Year's Eve 2008-09, Linz took over as European Capital of Culture. The city celebrated its European mission with three days of festivities attended by guests from near and far.
LINZ AT HOME got things started. On this momentous New Year's Eve, individual households assumed the role of Europe's hosts. Linzers entertained their prominent guests in ways that were highly personal, quite typical, extremely individual and very special. Their hospitality, their conviviality and their culinary offerings delivered the first impression of life in a European Capital of Culture, and constituted a pleasant contrast indeed to a run-of-the-mill banquet.
The official grand opening took place at 10 PM at a gala event in the Brucknerhaus featuring Austrian President Heinz Fischer. Prominent actress Elisabeth Orth worked congratulatory messages from political leaders into her very witty "cocktail speech." Maschek, the multimedia cabaret trio, rummaged through Austrian film archives to put together its hilariously dubbed "historical forgery" that depicted Linz as a divided city after World War II, and one that was not "liberated" until serving as European Capital of Culture. The world premiere of the "Rocket Symphony" devised and staged by Orlando Gough and Tom Ryser (Orlando Gough and Michael Henry composer, Tom Ryser director) with a chorus of several hundred singers from throughout Upper Austria and supported by the 16 vocalists of "The Shout" turned out to be a sparkling dialog between human voices and pyrotechnic artistry. At this point, approximately 270,000 viewers were tuned in to the ORF – Austrian Broadcasting Company's live transmission of the Linz09 opening. Live acts including Louie Austen, Binder&Krieglstein, Attwenger, Texta, Fatima Spa & The Freedom Fries, and Modeselektor kept the party mood going into the wee hours.
The new year began in traditional fashion with Aperschnalzen, the ancient peasant custom of "whip-cracking" to awaken the fertility of the fields, in front of the Landhaus. The scene then moved to the Brucknerhaus, where the Austrian premiere of Philip Glass' "Symphony Nr. 7, A Toltec Symphony" performed by the Bruckner Orchestra conducted by Dennis Russell Davies garnered tumultuous applause.
Masterpieces from more than 30 museums and collections, art that tells a story of the intense pleasure of beholding extraordinary sights, went on display on New Year's Eve at the Lentos Art Museum Linz. This show, which was entitled BEST OF AUSTRIA and ran for four months, consisted of about 100 works by such extraordinary artists as Franz Xaver Messerschmidt, Egon Schiele and Valie Export. The opening festivities continued on January 2 with the debut of the new Ars Electronica Center. Visitors jammed the three-day open house in the AEC's Museum of the Future to check out the new Main Gallery and Deep Space projection facility.
From New Year's Eve to January 4, more than 220,000 people (including guests from Portugal, France, Great Britain, Slovenia, Germany, Turkey, Rumania, Israel, China, Chile and South Africa) attended the grand opening events in Linz.
WHAT // Opening Festivities
WHEN // December 31, 2008-January 2, 2009
WHERE // The banks of the Danube, downtown Linz

PARTICIPANTS // Tom Ryser, Orlando Gough, Michael Henry, The Shout, Upper Austrian Choral Association, steyrFire, Hot Spots, Linz food & beverage establishments and private households, Mark Formanek and Datenstrudel, Altstädter Bauerngmoa, Brucknerhaus Linz, Bruckner Orchestra Linz, Dennis Russell Davies, Konzertvereinigung Linzer Theaterchor, Good Night Stuff, Oberbank Silvesterlauf Linz, Ars Electronica Linz, Lentos Art Museum Linz, StifterHaus, Circus, Kunstpalast_onstage, Capital of Culture Neighborhood of the Month et al.
maschek: Linz verändert - Eine historische Fälschung, Part 1 and 2








Download:
Folder: Useful information about the Opening
Folder Opening: All Details
Location Overview: Opening
Gallery
back