Radio Play 09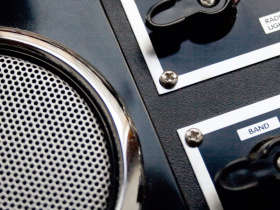 Copyright: Pöschko
Radio Play Prize Competition
Themes: Industry, Nature and Culture
One thing's for sure: this contest's sponsors enjoy playing number games. Radio Play 09, a competition launched by LINZ09, RUBBLE MASTER HMH GmbH and the ORF – Austrian Broadcasting Company, was announced on 3/3, the entry deadline was 6/6, and the winners were honored on 9/9.
The theme of this radio play prize competition was "industry." Free-lancers were invited to submit works of up to nine minutes in length. Five jurors—Gerald Hanisch and Andrea Eichelberg of HMH, Linz09 Musical Director Peter Androsch, and Alfred Pittertschatscher and Peter Klein of ORF—evaluated the approximately two dozen entries and, following intense deliberations, selected three winners. The submitted works reflected the entire creative spectrum offered by the radio play genre—sound collages, audio essays, mini-dramas, vocal experiments and documentaries. Total prize money was € 6,000. The three productions singled out for recognition were broadcast by the ORF's station Ö1.
First prize went to Sarah Seekircher, a student born in Innsbruck, for "Fabrikskinder," (factory children), a work dealing with child labor in Linz in the early days of industrialization. Runner-up was Qin Huang, a Chinese music student and composer, who created a very unique world of industrial sounds. Elisabeth Putz, a Viennese author, journalist and radio artist, took third place with her piece entitled "Industry" that compared the entertainment industry with the industry of destruction. A documentary radio play by Upper Austrian sound engineer and psychologist Brigitte Winter received an Honorable Mention.
The RADIO PLAY 09 competition will be staged again in 2010 (theme: Culture) and 2011 (theme: Nature).
WHAT // RADIO PLAYS, awards ceremony
WHEN // Wednesday, September 9, 2009
WHERE // RUBBLE MASTER HMH GmbH, Im Südpark 196, 4030 Linz
Press Information to Radio Play 09
Download Press Photos Radio Play 09
back