Magie
Part of
Circus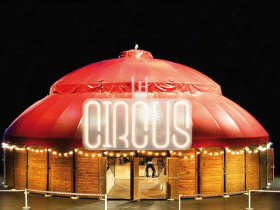 Copyright: Festspielhaus St. Pölten
East of the sun & west of the moon
Musical sounds conjured in hearts cleared of preconceptions. A series of fascinating acoustic scenes from the countries of the Rising Sun.
what is strange, on closeness and distance in the cultural self-interpretation of two continents. The sound interventions by the Vienna and Linz based composer Renald Deppe weave exemplary excerpts from contemporary works into a magical cosmos of sound. Visualised sound symbols and subtle lighting accompany the exciting dialogue between the cultures. What makes it possible to feel at home even though one is surrounded by strangers on all sides is a tiny hut, which provides all the space YOU are going to need to store the entire East, the entire West.
CONCEPT // Renald Deppe
PARTICIPANTS //
Ensemble09, Renald Deppe, Martin Ptak, Renate Schuler, "brpobr"/ Michael Bruckner, Fabian Pollak, Bernhard Breuer
to the main project page
back