The Library of a Hundred Languages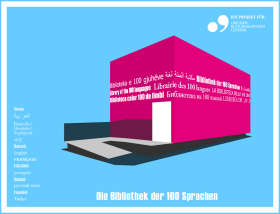 Copyright: Linz09
The Province Library's container on Schiller Square was bequeathed new reading material and the multicultural "stuff that life is made of." Books and events gave an account of Linzers and their cultures.
Men and women who have migrated to Linz—almost a quarter of all current citydwellers—were invited to fill this library with books in their respective mother tongue. This "linguistic treasury" was meant to reflect their reading habits and provide insights into ways of life that are strange to most of us. In addition to the library made up of items lent by members of the ethnic community, this project also staged a diversified program of events that brought together different cultures through their shared love of literature. In cooperation with CULTURE PILOTS, the migrants themselves organized readings, discussions and a wide-ranging program for young people.
By the end of November, the LIBRARY OF 100 LANGUAGES contained almost 700 books in more than 20 languages and was used by about 1,000 persons. It turned out that visitors were thrilled by the diversity of the books available, and migrants also used this facility as a source of information about where to find literature in their mother tongue after the project ended.
WHAT // Library, readings and events
WHEN // October 3-November 30, 2009
WHERE // Library container on Linz's Schillerplatz
www.bibliothekder100sprachen.at

PROJECT STAFF // Christian Enichlmayr, Irene Pötscher, Gregor Neuböck, Tamara Schwarzmayr, Mariem Reiter, Bogdana Bologescu, Jasmina Huskic-Santic, Juliane Göbl and Robert Hinterleitner
CURATOR // Robert Hinterleitner
Press Information to The Library of a Hundred Languages
Download Press Photos The Library of a Hundred Languages
back