Jenseits von Geschichte / Beyond History II - Disturbing Remains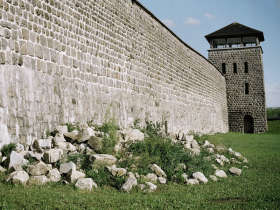 Copyright: Matyus
Dealing with the Material Remains of National Socialism
Memorial sites at the places where the Nazis committed their atrocities have become central to society's culture of commemoration in recent years. Closely linked to the heightened interest in these historical places is the expectation that they not just be memorials to the victims and places for the dissemination of knowledge about what happened, but that they also impart a very special, highly emotionally charged experience. This development means that the question of dealing with the material remains of Nazism assumes increased significance. What was left of the sites of Nazi terror and extermination? How were they dealt with in the years following 1945: what was preserved; what was demolished? What policies and practices govern present reconstruction and restoration measures? How is society dealing with the ongoing decay of these physical remnants? Or is decay rather an aesthetic category that creates a distinction between historical and cultural sites of commemoration?
As a follow-up to the
Beyond History (2008)
symposium, prominent experts from throughout Europe were invited to attend the "Disturbing Remains – Beyond History II" conference held in September 2009 at Mauthausen and Linz under the aegis of the Mauthausen Memorial (Austrian Federal Ministry of the Interior) and the Institute of Cultural Studies of the Austrian Academy of Sciences. The scholars focused on the question of how to deal with the physical remains of National Socialism.
WHAT // Symposium
WHEN // September 21 & 22, 2009
WHERE // Mauthausen Memorial, Altes Rathaus Linz
Press Information to Jenseits von Geschichte / Beyond History
Download Press Photos Jenseits von Geschichte / Beyond History I
back