Fadinger Reloaded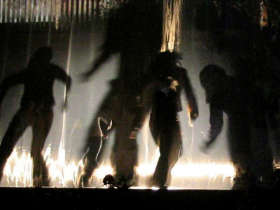 Copyright: Fadinger
Music theater with a timeless theme: Stephan Fadinger, the legendary leader of Upper Austria's peasant uprising.
He was one of the most striking figures in Upper Austrian history. On May 22, 1626 during a peasants' uprising, Stephan Fadinger was appointed one of their leaders. On May 22, 2009, a group of students at Fadingerstraße High School put the institution's eponymous hero on stage as part of the festivities marking the "100th year of the schoolhouse on Fadinger Street." The students collaborated with their counterparts at Linz Music School to produce a work of musical theater about the legendary peasant leader who died in the siege of Linz.
It wasn't the man himself but rather Fadinger's "vision" that was revived. The play's protagonist is the daughter of a high-powered CEO, a modern, realistic young woman who exists at the nexus very different worldviews, philosophies of life and value systems. The message imparted by this work is a loud and clear "YES" to the vision of a new society in an ecologically more just and socially more balanced configuration in harmony with nature, a clarion call to protect the natural environment and natural resources, and an affirmation of a life lived according to the principle of self-determination and with a sense of responsibility for ones actions, beyond all material demands and interests.
WHAT // Music theater
WHEN // May 22 – 23, 2009
WHERE // Hafenhalle09

IDEA/CONCEPT // Egbert Bernauer, Thomas Mandel, Manfred Pilsz, Marcus Wall
PRODUCTION ASSISTENTS // Dana Ernst, Inspizient – Michael Buchegger
CAST // Manu Barth Wiplinger, David Chea, Christian Reisinger
COSTUMES / PROPS: Katharina Starmayr, Hannes Ebner
EQUIPMENT // David Nadlinger, David Wurm, Ruth Wagner, Ingo Kelp

Free admission
Download Press Photos Fadinger Reloaded
back