Instant Anton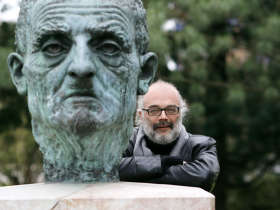 Copyright: Reinhard Winkler
Thomas Kerbl compressed Anton Bruckner's symphonies into musical snapshots: three- to five-minute quintessences for varying ensembles.
"His music stands out in time like a boulder amidst a mountainless landscape. We don't know where it came from nor do we know where it went. What we do know is that it's the manifestation of a man: Anton Bruckner," said Peter Androsch. Cuts and dissolves, fade-ins and fade-outs were effects Anton Bruckner employed in the 10 symphonies he composed before these terms were even coined. Pianist/conductor Thomas Kerbl used these techniques to create highly compressed versions of Bruckner's symphonies in which he concentrated the compositional ideas and reworked the musical essence as a means of bringing out Bruckner's genius in sharp relief: visionary and radical, mystical and inexplicable, banishing the banal and thus pointing the way into the future. Even in this compressed format, the approach to Bruckner's music doesn't lose sight of the wide-open spaces of the landscapes surrounding St. Florian, of the thronging claustrophobia of celebrants whirling on the dance floor to the sound of a fiddle, of the monumental impact of an ecstatic surge to transcendence, of the breathlessness of loneliness-induced despair.
Instant Anton was performed several times by Thomas Kerbl and Ensemble09 at Circus. Noteworthy—and a source of particular pride—is the fact that the premiere was broadcast live by the BBC and many other radio stations throughout Europe.
WHAT // Commissioned work for piano and ENSEMBEL09
WHEN // Summer 2009
WHERE // Circus
Press Information to Instant Anton
back