Das unsichtbare Lager / The Invisible Camp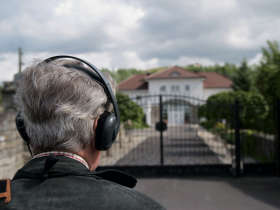 Copyright: Dietmar Tollerian
A voice heard via headphones guides the visitor through a pleasant residential neighborhood and peaceful green spaces. At first glance, there are no clues to what once went on here.

The AUDIOWALK GUSEN seeks the hidden traces of a place that was the site of the Gusen I and II concentration camps. Their roles comparable to Buchenwald and Mauthausen, the concentration camps at Gusen had fallen victim to a general amnesia. Today the site, with its architectural remnants, is used by businesses and private individuals. Equipped with only an iPod—that is, without installations, markings or maps—visitors make their way through residential developments to a subterranean aircraft factory. The soundtrack includes original recordings with personal reminiscences of survivors and contemporary historical eyewitnesses, voices of present-day residents of Gusen, as well as testimonies of soldiers who worked in the camp and members of the SS. People recount what is normally left unsaid. You hear what can no longer be seen and you see what's left. In this way, one and the same place can be seen and experienced from totally different perspectives.
The official opening of AUDIOWALK GUSEN on May 5, 2007 was attended by President of the Austrian National Council Barbara Prammer, concentration camp survivors, contemporary eyewitnesses to history, and guests from throughout Austria and abroad.
WHAT // GUIDED HISTORY TOUR
WHEN // permanent
WHERE // Gusen, 15 km from Linz
www.audioweg.gusen.org

IDEA / CONCEPT // Christoph Mayer
AUDIO PRODUCTION / DRAMATIC COMPOSITION // Andreas Hagelüken, Jule Böwe (narrators), Kai-Uwe Kohlschmidt (music), J. Theil (sound), Studio Mitte Cooperation (sound), Gedenkdienstkomittee Gusen, B. Perz (historical advisor), C. Grimm (psychological advisor), die jungs kommunikation (PR), L. Wohlmuther, Kulturverein Tribüne (organization) and many others


Subsidized by the Austrian Federal Ministry of the Interior, National Fund of the Republic of Austria for the Victims of National Socialism, the Province of Upper Austria, the municipalities of Langenstein and St. Georgen an der Gusen, Gedenkdienstkomitee Gusen, Kulturverein Tribüne at al.
Press Information to Das unsichtbare Lager / The Invisible Camp
Download Press Photos Das unsichtbare Lager
back