Advent08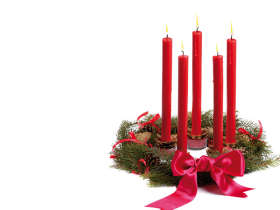 Anticipation intensifying, the Capital of Culture year approaching: It arrived in style!
ADVENT 2008 had 32 days and the Advent wreath had a fifth candle, which everybody could pick up for free at the Linz09 Infocenter on Hauptplatz. This special time of joy-filled waiting concluded on New Year's Eve and the grand opening of the Capital of Culture year. ADVENT08 was meant to heighten the anticipation of good things to come and offer a foretaste of the Linz09 lineup.
Subsumed under the heading ADVENT08 were a variety of projects and openings from several different program areas. Things kicked off in December with the debut of ACOUSTIC REFUGE CENTRALKINO, the first TOWERMUSIC brass concerts, and the opening of the Advent calendar on the façade of Café Centrum in downtown Linz, where Viennese illustrator Nina Dietrich presented comics featuring queens and kings, princesses and princes. KUNSTKAUF—Affordable Art was a campaign by 16 galleries in Linz and Upper Austria offering artworks costing less than €500. December 1-23, 2008 in Theater des Kindes, there was a daily show in conjunction with 24 TIMES UNIQUE, a theatrical Advent calendar. The first TOWER HERMIT moved into his secluded quarters high atop Linz's St. Mary's Cathedral shortly before New Year's Eve. And crews set up the COMING AND GOING signs to welcome Linz's guests in many different languages.
WHAT // Countdown
WHEN // November 30 to December 31, 2008
WHERE // Throughout Linz
Gallery
Download Press Photos Advent08
Download Press Photos Press conference Advent08, 26 November 2008
back