Unter Uns / In Our Midst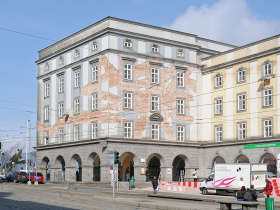 Copyright: Gabu Heindl
The IN OUR MIDST installation dealt with the Bridgehead Buildings and the history of Linz in the Nazi era.
"Who built the bridgehead buildings?" This question was the leitmotif of an installation situated on Hauptplatz, Linz's Main Square. It was echoed by questions about the engineers, the construction workers and even the building materials. Who was involved? Who launched this project? Who did the work? Were Nazi architects, concentration camp prisoners, and slave laborers on this job? What were conditions like for those who produced the building materials and for those who constructed the buildings themselves? IN OUR MIDST sought to make the stones of the Bridgehead Buildings "talk" and to make the past visible. An architectural intervention and an installation in a space on the complex's ground floor gave an account of the research results. In literally fragmentary fashion, this individual case illustrated Nazi aesthetics and shed light on a facet of "everyday life" under Nazi tyranny. In Spring 2010, the Bridgehead Building's façade was returned to its original state.
The IN OUR MIDST project provoked a controversy and led to meaningful discussions in Linz.
WHAT // Installation
WHEN WANN // February 28-December 31, 2009
WHERE // Bridgehead Building East, Hauptplatz

IDEA / CONCEPT // Hito Steyerl
PROJECT STAFF // Sebastian Markt (historian), Gabu Heindl (architect), Niko Wahl

Gallery
Press Information to Unter Uns / Amidst Us
Download Press Photos Admist Us
Download Press Photos Press Conference Admist us / Presentation History Book, 27 February 2009
back